I thought about updating this page, but you can't rewrite the past, so there it stays and here I am, still giving my characters all kinds of hell and – I can only hope – giving my readers a good time.
I live in suburban north London – the part of the world in which, apart from my time in the US, I've spent much of my life – with my husband and our RSPCA rescue dog.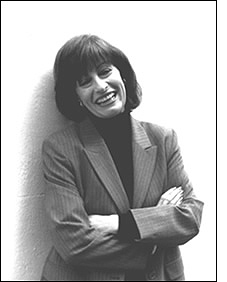 Through the school and college years, I day-dreamed when I could get away with it, read fiction for pleasure every minute I could, but found essay-writing a great chore – and then I escaped formal education and began the real business of learning. I acted, then switched to the production side, working in radio drama for the BBC and London's Capital Radio, travelling whenever possible and living for a time in New York City and Rhode Island.
My writing ambushed me out of the blue, startling me with the powerful urge to begin. More than five years later, after working on my manuscript every spare hour, I sold my first novel, IN LOVE AND FRIENDSHIP, which became a bestseller at home, in the USA and many other countries, translated into seventeen languages. My writing became increasingly suspenseful, the body-count multiplying, and turning to crime and psychological thrillers seemed a natural progression.
The first of my Detective Sam Becket books was MIND GAMES, and several years passed – publishing one standalone title a year – before the second Becket, LAST RUN, came along, and after that, poor Sam's and Grace's troubles just kept on coming.
Now there's another standalone: WHIRLWIND, my twenty-fifth novel, out this November. The next book still in the planning stage, my desk piled high with research, chaos unfolding.
As it should be.